Staff
My staff and I truly enjoy what we do and like to have fun at work, but we are very serious when it comes to providing our clients with prompt service, accurate communication and professionalism at all times. Please contact us immediately if you have any questions or have a request. We will work hard to address your needs without delay.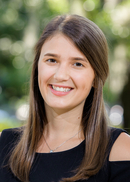 Courtney Grande
Courtney attended Stetson University in DeLand, FL. She received her BBA from the Stetson University School of Business in 2012. She joined Northwestern Mutual and Jack Green in 2014. She is securities licensed as well as fully licensed in life, health, and annuities.
What you should know
Courtney works with Jack and our clients to develop a comprehensive financial plan to help them realize their financial goals. She strives to make the client experience a pleasant one whether it's a service request or implementing a plan.
Fun facts
Courtney and her husband Tim spend their free time traveling, playing tennis, and constructing their own home-built airplane that, upon completion, they plan to fly and visit family and friends.